Education
Steven Stawski attended Princeton University, the University of Michigan, and the Michigan State University College of Law.
Judicial Extern & Clerk
Mr. Stawski served as an Extern for the Hon. David McKeague in the United States Federal District Court for the Western District of Michigan. 
He also clerked for the Hon. David Jordon in Michigan's 54-B District Court.

Awards
In law school, Mr. Stawski was awarded multiple Jurisprudence Achievement Awards.  
A panel of three federal court judges, including Judge Richard Posner of the United States 7th Circuit Court of Appeals, awarded his moot court team "Best Brief" and "Oral Finalists" at a national competition in New York City. 
The next year Mr. Stawski served as the Executive Director of the law school's moot court program.  His  team became a judge, a former general counsel to the Michigan Supreme Court, in-house counsel for an international company, and the founders of specialized law firms.
 Training
Mr. Stawski was hired out of law school by one of Michigan's largest law firms and became an equity shareholder.
Known for its internal training program where new attorneys  work with practice groups for their first two years akin to a medical residency, the firm  produced in-house counsel for multiple health systems, in-house counsel for large corporations, instructors for the National Institute for Trial Skills, multiple judges, and the founders of many law firms.   
In addition, Mr. Stawski  attended the Federal Bar Association's Hillman Trial Advocacy program and has since returned to volunteer as an expert witness for multiple years.

 Skills

Paired with his firm's leading business lawyers and litigators, Mr. Stawski soon developed dual skill sets across the firm's transactional and litigation practice groups.  And this seamless training continued for over the course of a decade. 
Just as routine as daily cup of coffee, Mr. Stawski could form a new corporation in the morning and appear at the podium for a business, construction, or banking matter in the afternoon. 

High Profile Matters

Assisted living care facilities, medical office buildings, and agricultural processing facilities are examples of projects that Mr. Stawski has structured, negotiated, documented, and closed–all of which will benefit many communities in Michigan.
Mr. Stawski was the  real estate counsel and brief writer on a highly publicized case to defend hundreds of acres of Michigan shoreline dunes that are now forever preserved for future generations.  That lawsuit was settled on the briefs without the need for a hearing.
Federal and state cases involving the University of Michigan's football stadium,  the Bridgewater Condominiums,  St. Mary's Mercy Medical Center, and multiple banking institutions are examples of favorable results in high-profile matters.
Mr. Stawski has established law in Michigan as a matter of first impression.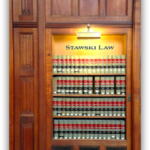 Third Decade
Serving Professionals, Business Owners, and Families
In 2014, Stawski Law, PLC was founded as a responsive boutique law office that assists professionals, business owners, and families achieve their immediate objectives and long term goals. 
And now starting his third decade in practice, Steven Stawski still enjoys serving as legal counsel to professionals, community leaders, businesses, and non-profits throughout the State of Michigan.  

Specialized Mediator
Steven Stawski is a court-approved mediator for multiple courts.  He  is uniquely qualified because he is one of the business, property, banking, and construction mediators have actual courtroom experience in establishing law as a matter of first impression. 

Legal Educator
Mr. Stawski was fortunate to have great mentors, and he is equally committed to professional development opportunities for the next generation of legal professionals. 
He is a published author and a speaker for national, state, and local programs for lawyers.  He volunteers for skill-based programs and professional organizations that promote continuing legal education at all levels.

Leadership
Mr. Stawski was recently appointed to the State Bar of Michigan's Standing Committee on Civil Procedure and the Courts where he works with judges, court administrators, and practitioners to improve the administration of justice throughout the State of Michigan.  
Steven Stawski is the president elect of the Grand Traverse-Leelanau-Antim Bar Association and a past president of the Gerald R. Ford Chapter of the American Inns of Court.
He is the past co-chair of a committee of the State Bar of Michigan's Real Property Section.

Steven Stawski, Esq.
"Service to Others"
Since 1837, the Kennedy-Stawski family has been dedicated to public service in Michigan.
Over 185 years later, the Kennedy-Stawski family is still doing what the family does best: serving others.
Inform. Educate. Advise.